Dear Readers, I'd like to introduce you all to my current obsession: the insanely delicious caramels made right here on the Oregon coast and sold online by a young couple with a passion for sweets. If you've ever shied away from eating caramels because you found them too sticky, too chewy or were afraid they'd pull out your dental work, I can promise you that these are a perfect, buttery smooth, melt-in-your-mouth consistency.
I asked Skott and Jodi, the creators of Botanical Sweets and Treats, to tell me more about their luscious candy.
How did you get started? "Early on in our relationship, one of our favorite places to visit was Pike Place market in Seattle. We saw past the tourist side of it and enjoyed arriving early and watching the market come to life. We have always loved farmers' markets and talked about selling at them one day.
We got started almost by accident.
We were visiting family in Idaho and we went to see Skott's dear Aunt Hazel, the sister to his grandmother (who raised him and was like a mother to him). We told her about our lives on the coast and somehow the conversation turned to all the candy and taffy shops. We started talking about our favorite candy and Aunt Hazel said she loved caramels, but didn't like chocolate. We asked her if she'd ever had a caramel with sea salt on it. She hadn't and was very curious about the idea. We told her we would find some at a candy shop when we got home and mail them to her.
When we arrived back in Oregon, we searched everywhere and couldn't find any salted caramels that weren't coated in chocolate. I'd (Jodi) grown up on a dairy and made caramels for many years in my youth. I decided I would dig out the old family recipe and give it a try. I quickly remembered how much I enjoyed making caramels: cooking that sugar until it seemed it was going to burn, then incorporating cream and smelling those wonderful aromas as the house filled with the sweet smell of caramel.
We sent salted caramels to Aunt Hazel and brought the rest to work to share with our co-workers. Everyone loved them and wanted more."
Who does what? "We make a good team. Skott is the creative recipe guy and I (Jodi) manage the business side."
Your flavors are so unusual! Which are most popular? "We started making our own infusions/concentrates/extracts using dried botanicals such as hibiscus, Earl Grey tea, dried Oregon chai tea, rose petals, lavender buds, and the like. Sea Salt is by far our best seller. We have seasonal flavors that we rotate in and out as well.
Last summer's best seasonal seller was Cherry w/Lime Salt and our best winter seasonal was Pumpkin Pecan Pie. All of our Christmas flavors sell really well: Candy Cane Crunch, Hot Buttered Rum, and Apple Cider. We introduced Irish Cream last year and that was a big hit, along with Cocoa-dusted Bourbon. Christmas is our busiest season, although we are getting more wedding orders this summer as well."
How long have you been in business? "We opened our Etsy shop in November 2013, and did our first show the following April 2014. We have a second Etsy shop (beachwalkerz) and now sell exclusively online.
The response we got at our first show was amazing. We quickly learned that people were not expecting caramels to come in such a variety of flavors, and got asked countless times "What is this, soap?" With the name "Botanical Sweets and Treats" and a green logo background, we quickly realized we needed a major rebranding overhaul. We hired a new logo designer and changed our packaging that first summer. Things went much better after that.
From day one, the markets were fantastic. We have always loved the energy found at a farmers' market—the sounds, the smells, the patrons' excitement as they wander the booths. Skott especially enjoyed talking to the regular customers, the other vendors, and the little kids who would save up their allowance to buy a bag of caramels (he always cut those kids a special deal). He met people from many countries who bought caramels to take back to their families. It's very exciting to think of the places our caramels have traveled!
The biggest challenge to doing markets along the Oregon coast is the weather. Skott has quite a few memories of people huddled in the booth, waiting out the rain, everyone sampling caramels, laughing, talking, sharing experiences."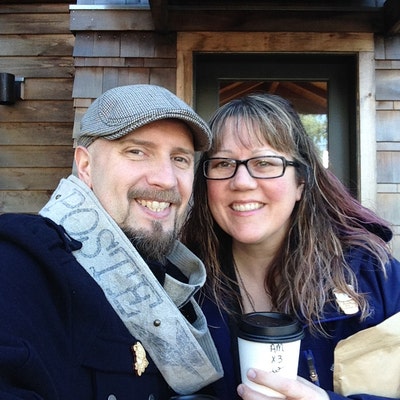 Did you ever try something that just didn't work? "We tried melting dark chocolate into the caramels (versus dipping them in chocolate) and making flavors such as Cherry Chocolate and Mexican Spiced Cocoa. We loved them, our friends loved them, but they just didn't sell well, especially online. A big challenge with online sales is that people can't sample before they buy, so they are hesitant to purchase the unknown, funky flavors.
We found out (the hard way), that a beer-flavored caramel is NOT good :-). We tried reducing stout beer and adding it into a caramel. It produces a really sweet, beef-bouillon-flavored candy. Blech! We also tried doing some two-layered caramels like Rum & Cola, and Peanut Butter & Jelly. They were fun to make but very time consuming.
One of our Etsy customers requested a Peanut Butter and Banana flavored caramel. We used peanuts to make an extract, boiled banana in water and made an amazing Elvis-inspired caramel. It was actually quite delicious!"
What are your plans for the future as you become more successful? "We have worked very hard to get back and live at the coast that we love so dearly (we relocated here from Wisconsin five years ago) and we don't want to leave the area. This poses many challenges from a business standpoint, the main ones being commercial kitchen availability and distribution.
Last year we really maxed out on production capabilities. We cook in small batches. We cut, wrap, and bag all by hand. Our online sales have continued to grow, to the point that we've stopped attending the markets.
After meeting with a local investment group we've decided that we want to keep control of our company, even if that means keeping it smaller at this point. Caramels are best when fresh; they don't have a super long shelf life. Even though they never really "go bad", they lose their brightness after 3-4 months. And we don't want to start adding a bunch of chemicals to increase shelf life!
So in a nutshell, our plans are to continue to grow our online sales via Etsy and maintain our handcrafted quality rather than becoming automated. We have a lot of fun making caramels together!"
Special Offer Just for OFH Readers! I promise you'll have at least as much fun eating these caramels as Skott and Jodi have making them. They've generously offered us a special discount coupon to use when you shop online. Enter BLOG10  at checkout to save 10% on your order.
My personal recommendations are Original, Sea Salt, and whichever coffee flavor is available. But honestly, they are all wonderful!! (And, by the way, this is not a sponsored post; I'm just a fan!)